It's a typhoon that struck the Eastern/Central Philippines a few days ago. I have read that the intensity of the typhoon was 3.5 times hurricane Katrina's and I could not even imagine having a Katrina-like typhoon striking the Philippines.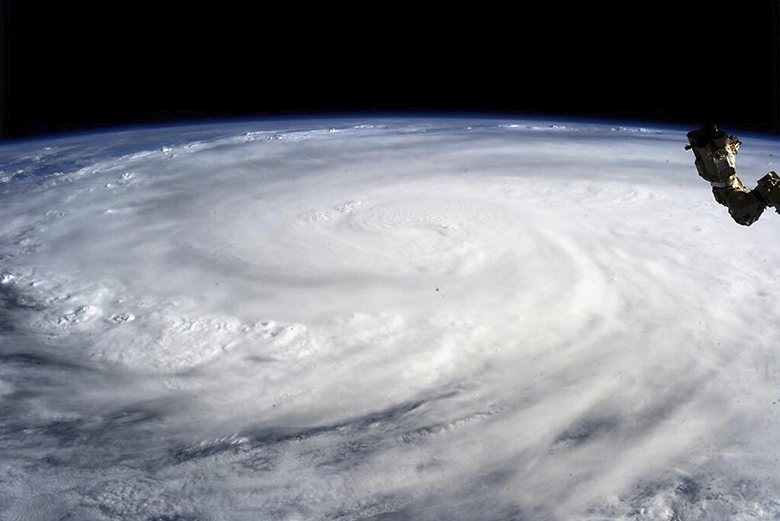 Picture photographed by astronaut Karen Nyberg aboard the International Space Station via The Guardian
I have never been to the central part of the Philippines but I am well aware of the general living condition of Filipinos in each part of the country. We barely have "rich cities" there as every city has people that is struck by poverty. Tacloban, the city that pretty much absorbed the wrath of Haiyan has been wiped out of houses, buildings and unfortunately, even people. CNN reports that there may have been over ten thousand casualties from this tragedy (
source
).
A guy was interviewed and he shared what he went through to survive the typhoon. He even saved a kid. From being dragged to in the waters by the gigantic waves, to finding and grabbing an 8-year-old boy holding on a coconut tree for his life, to swimming back to shore, he reveals his story. You can read the whole heart breaking story
here
and more stories from survivors
here
.
It's unbelievable that it only took a few hours for a city that has been growing for years to be torn to bits and pieces. It's so sad when I watch news from the Philippines where locals say that
there is no more Tacloban
and that
it's now a ghost town
. It's devastating.
I've been planning a yard sale with my friends so we can get rid of our old clothes but I guess there was a reason why we our plan kept getting delayed. I'll be sending the old clothes as well as canned goods that I will be shopping for this week. If you're interested in helping, you can
click here for monetary donations
or leave a comment if you're in Los Angeles and would like to donate your old clothes. Thank you.