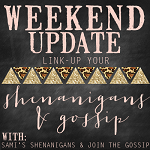 First
of all, I would like to tell you that I'm sorry for not being around as much. I now do not know how working married bloggers (especially the ones with kids) stay on top of their blogs. Hands down to you, ladies. I don't have work today though, so #LetsDoThis.
Second
, I met Bill Nye the Science Guy.
HERE
is the pic ;)
Third
, I spent some fine time with my sister this weekend. She stayed over on Friday because she needed to go to a medical class that is closer to our house than hers. It's always fun spending time with her because there are a lot of things that we both love...like making fun of each other ;)
After her class on Saturday, we spent the afternoon watching HGTV shows and drinking wine while Ron was taking a nap next to us. When Ron woke up at around 7pm, (aka after 3 episodes of Love It or List It), my sister and I fell asleep. Hahaha! This is seriously something we tend to do. When one sees the other sleeping, it becomes contagious. At around 8:40, Ron woke us up and said it's time to go to bed. I was complaining that it was only 8:40 but as soon as my head hit the bed, I knocked out. 12 hours later, I woke up and made breakfast. Unfortunately, we did not take any pictures. I told her this so she sent me a picture of her and Epi.
After she left, Ron got a call from a friend and when he hung up, he asked if I wanted to go with him. I said yes without even asking where we're going and what we're doing. When we got to the basketball gym, there were lights and it was a full on commercial shoot. We did not have an idea it was THAT professional.
| | | |
| --- | --- | --- |
| Poser picture. I don't watch nor play this sport. It's a gift. Hehe. | Food for five. Not even kidding. Our eyes were bigger than our tummies. | These are pictures from the set. Ron was so funny and cute ;) |
I'll be co-hosting a fun link up for Valentine's Day with
Melissa
! I'll tell you more about it later this week. There's also a pretty awesome giveaway coming soon so keep an eye out!
Sooo, how was your weekend? :)